Known for her role as Debbie Gallagher off Showtime's "Shameless" that's currently airing its 2nd season, adorable Emma Rose Kenney is on the rise of becoming one of America's most talented teenaged actors. Let's not forget her recent appearance on HBO's "Boardwalk Empire"! Emma dropped in to chat with me to discuss her role as Debbie, share her acting experience thus far, challenges, and also give us an idea about her her future career plans, aspirations, and goals!
Charli: Hi Emma! I'm a celebrity interviewer for MediaBlvd Magazine and I wanted to ask you some questions relating to your role as Debbie Gallagher on Showtime's "Shameless" as well as a few questions regarding your inspiration and career goals.
Emma: Sure!
Charli: Okay, just a little background info, how old are you and how did you get into acting?
Emma: I'm 12 years old and you know when I was younger, I didn't really try to get into acting, but I just did it for fun… like any other kid would do soccer, gymnastics, or something; but I ended up taking a few improv classes and my manager, who is my manager now, asked my mom if they could possibly represent me at a showcase; so my mom asked me and I said, "Hey, why not give it a try?!" So yeah! Here I am today!
Charli: Great! So talk about your experience on the set of Showtime's "Shameless". What do you enjoy the most while playing the role of Debbie Gallagher?
Emma: You know I've had such a good experience and I like to play the character. I've got such a fun character to play and I like how she is so different from myself, Emma. So it's fun to see how Emma can be the same person, but portray different emotions and personalities. Everyone on the show is like such a big family. We're all really really close and we hang out a lot. We have blast!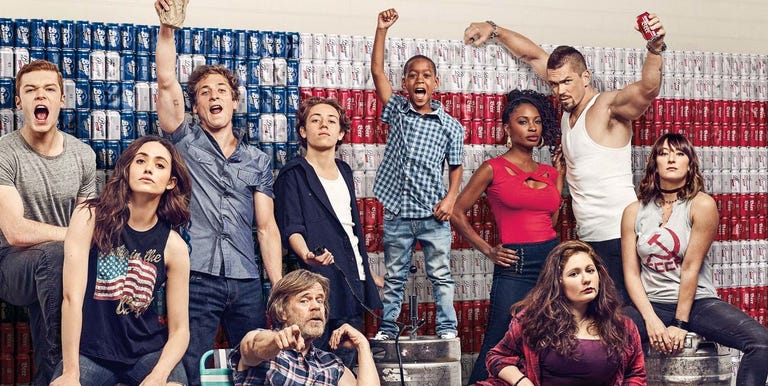 Charli: Yeah that was actually one of my questions later on… concerning your role as Debbie and yourself. Do you share similar qualities with Debbie and also, what sets you all apart?
Emma: Right! Well I am a little more energetic and happy, and social. And you know Debbie is the opposite of that, plus more. Debbie is not as trusting. She had bad experiences in her life and doesn't really like to open up to them. She's kind of crazy to that perfect, All-American life in a way. Like a Martha Stewart type of thing. So yeah! [laughter]
Charli: Right! So what has been your most favorite/fun episode or scene on the show so far? You probably have a lot of them!
[laughter]
Emma: Probably! Debbie's big birthday party/bash during season 2, that was episode 4; because there were SO many kids on the set. So I got to hang out with a little more kids and also because I got to show Debbie in a new way… as actually being a kid instead of a working adult. So it was very fun to play her in a different way.
Charli: Sounds fun! What has been your biggest challenge for you as a teenage actor in the television industry?
Emma: Umm, just balancing school and filming. Because actually I am living in New Jersey right now and whenever it's time to film, I'm going to LA and that's when I have a tutor on set. So I go to school back in New Jersey, but it's so hard to balance school sometimes. Because you want to hang out with the cast and the crew, and focus on filming instead of having to double the work with school. So I guess that's my biggest challenge. Yep, that's about it! [laughter]
Charli: Right! I interviewed kid actor, Jackson Brundage from "One Tree Hill", last year; not sure if you know him, but he had quite a similar answer. It's understandable how tough that can be for you guys.
Emma: Yeah! I have a feeling that every kid actor has that exact same answer because school is… Well I like school sometimes, but sometimes I don't. Especially when you're going to be doing something that you really like to do, you'd want to do that instead of having to focus on social studies and all of that stuff! It's kind of boring I guess with school on set. [laughter]
Charli: As I was researching a little about you, I learned that a few years back, you submitted a short film to the New Jersey International Film Festival entitled, "The New Girl In Town". What inspired you to write and shoot that film?
Emma: You know that was when I was doing commercials and stuff, and I don't know! Writing is my favorite subject in school, and on my laptop, I type a BUNCH of scripts and stuff. I didn't really expect to film them, but I showed "The New Girl In Town" script to my mom and dad and they said, "Wow that's actually pretty good!", so we decided to shoot it, and I'm like, "Why not let's give it a try!" So after I did my first commercial, which was an eBay commercial, I used the money to buy me a video camera. So I edited up the script a little bit and we shot the whole film in a weekend. Then it took about 2 weeks maybe to edit. So I submitted it to festivals, and I honestly did not expect to get a call back from any of them because I didn't think it would be that good, but I entered it in the New Jersey International Film Festival and I actually made it into the finals! [laughter] But it was also an all adult film festival, so that was such a cool honor. I got to go to the screening of all the movies and I got to see my movie on the big theater movie screen, and I got to bring one of my friends so it was really fun!
Charli: I bet!! So how can we view the film? Is it anywhere on the internet?
Emma: Yeah! You can find it online! Try typing in: "Emma Kenney director" or "Emma Kenney The New Girl In Town" yeah try that! It's definitely online. So try one of those and you may have to search around a little bit, but yeah. [laughter]
Charli: Okay, cool! And have you submitted any projects to festivals since then?
Emma: I haven't submitted any more movies to any festivals yet, but I have been writing a bunch of scripts and stuff; so hopefully I'll be able to film one of them with my friends! But definitely! I kind of want to do that again! Like I said, I love to write, so I have tons of scripts on my laptop, but I write the scripts more for fun than going into it for working. [laughter] But yeah, it would be really cool if I could do another festival.
Charli: I hear you talk a lot about writing and directing, so do you plan on sticking to a career in acting or do you have interests in pursuing another professional field? 
Emma: I like ALL of them, but I probably like acting better than writing and directing, but that's just because I've been doing it longer; but I do love writing and directing. Hopefully when I'm older, I can be an actor, OR actor/writer/director [laughter] that would be really really cool! But I've also been interested in murder mystery. That sounds really random [laughter] but I want to be a detective when I get older. I don't know how I'm going to be able to balance all 4 of those [laughter] actor, detective! But hey, it's worth a try right? [laughter]
Charli: You're definitely right! So how can fans and future fans connect with you on social networks?
Emma: Yeah I do have a Twitter account, but I do not have a Facebook or Myspace. My Twitter is: @EmmaRoseKenney.
Charli: Thanks so much Emma for stopping in to chat with me. I wish you well in your future endeavors! Is there anything else you'd like to share?
Emma: Umm yeah! Really just that everybody on our "Shameless" cast and crew — I've just been so honored and I have such a blast with them! I am so lucky to have a great experience. So I want to thank all of the fans out there, and all of the support, and yeah!
Charli: Thanks again Emma! 
Emma: Thank you!