A talented entertainer and triple threat who can act, sing and dance, she has found success recently on all fronts. Born in Alabama to parents of Puerto Rican descent, she grew up all over the United States and in Germany (due to her father's career in the military). She began classical ballet and belly dancing at the age of just three years old. Inspired by her mother who was a professional belly dancer, she became the world's youngest professional belly dancer at the tender age of 8. Expanding her repertoire to include tap, jazz, modern, flamenco, and hip-hop, she has appeared as a featured dancer all over the world. Dancing is what would eventually connect her with America's iconic pop star, Prince. VH1 has a new one y'all! Hollywood Exes — and yes, I got to chat it up with one of the stars of the show, Mayte Garcia, ex-wife of Prince. So gals and all you male reality show watchers, get ready, cause here they come with the most amazing stories full of laughter, drama, and tears.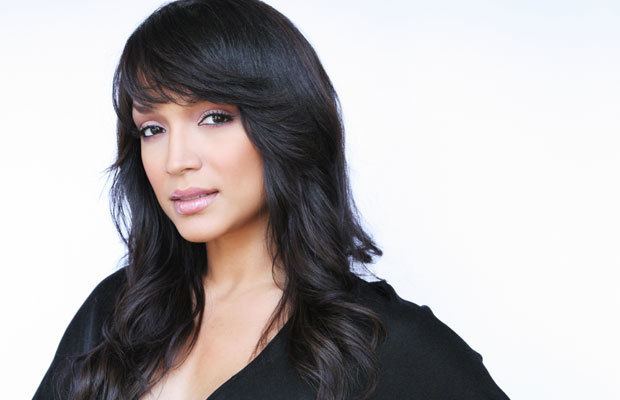 Charli: Okay, So I'm pretty sure that we'll find out on the show, but could you just give us a brief story on your experiences being married to Prince? Maybe how the two of you met, the pros and cons…just your experience in general.
Mayte: Well I met him when I was really young. I was 16 years old and started working with him at 18. As a dancer and performer, and a person in the arts, working with him was like the best thing ever. I mean there weren't any cons. The pros only. We just loved to play together and we fell in love and got married; and you know like all marriages, some work out, some don't. Ours didn't. You know it was a growing experience. I learned a lot. That's pretty much it — these women, we all have like similar stories. We were all married to high profile people, so there was a certain level of confidentiality to keep in sharing our lives. And now we're moving forward. That's what this show is really about. How we've survived — and all of the women have children and relationships with them. With me, it's being a creative person before, during, and after him. So yeah, that's what I'm doing.
Charli: Awesome, and you have a background in dance, right? What was it that inspired you to train as a dancer? Are you still active?
Mayte: Yeah! I started dancing actually at the age of 3. It was in my body. By 18 I was on That's Incredible. People from the 80's should be familiar with that show. It was a talent show that would showcase people with their talents and I was on there as a professional belly dancer. It was a career and when I started working with Prince, that was the reason why he hired me. I became his lead dancer for his crew for many years. Then after the divorce and stuff, I got into acting — I fell in love with that. I'm still actively dancing. I have a belly dance team, and I'm going to work on doing a new one. And I'm also up for a huge dance movie and If you watch the show, you'll get to see the journey and what all I'm going through to get this part.
Charli: Aww that sounds great! And now you're doing VH1's Hollywood Exes. What made you decide to do a reality show?
Mayte: Well people really only know me as being Prince's ex-wife or they don't. And for me it was something that I just got tired of ignoring. I wanted to move forward and wanted people to get to know me as a person and an artist. And yes I was married to him, but hopefully they'll get to know me more on this show, which before, I used to cringe at reality, but it's a journey and people fall in love with you and you're able to do a lot of things, share a lot of things, and help with a lot of things.
Charli: Exactly. I don't know how much you can give out about the show, but can you talk about your fellow cast members, the other ex-wives. Who are they?
Mayte: Sure! It's Nicole Murphy, she was married to Eddie Murphy. Sheree Fletcher who was married to Will Smith. Jessica Canseco who was married to Jose Canseco. And then Andrea Kelly who was married to R. Kelly. It's crazy because all of us are different — except for R. Kelly, me and Andrea have a lot in common because we're both dancers and we danced for our significant other. But there are a lot of similarities and being married to them is something that we all share. And I think that you'll see that on the show. The good and the bad.
Charli: Yes, yes… I'm definitely excited about this one. What can reality show lovers look forward to on premiere night? …even throughout the entire season?
Mayte: All man [laughter] I think they're going to laugh, they're going to cry… they're going to be in shock — they're either going to hate it or love it; and you'll hate it so much, that you're going to watch it anyway and love it [laughter]. It's a little bit of everything. I spoke to the producers yesterday and they were like, "I'm telling you, it's funny, it's everything in one" [laughter]. So I think the viewers will get a lot out of this and enjoy it.
Charli: Right, I mean I feel that this one will be different. We have of course the Basketball Wives and the recent Baseball Wives, and all of the Real Housewives' shows, but what do you think sets Hollywood Exes a part from the other vH1 reality shows?
Mayte: I mean! Nothing bad on those shows or anything, they are great shows, but I think the difference between those shows and our show is that we were married to huge stars. I was married to Prince, he's a pop icon, you know? Eddie Murphy is like the funniest man in the world. You know? Stuff like that. You just can't compare to our stories that we have to tell. But then again, we're all women. So there's a difference, but there are also similarities. We all go through our insecurities and our fears, and our sadnesses, and all that stuff. So we're women, but we happened to be married to like really famous people.
Charli: True… I also learned that you guess appeared on Nip/Tuck, The Closer, Psych as well as other series. Do you plan to eventually have a definite career in TV?
Mayte: Oh yeah! [laughter] I love it. I love being behind the camera and in front of it. I have my ideas to show — I'm just a creative person. And TV is going to help me share it with everybody. You know? And that's what I want to do. I love it. I've done it throughout the years and it's getting better and better. So, I hope to show that.
Charli: I hope to see it! [laughter] How can current and future fans connect with you through social networks?
Mayte: You can go to mayte.com. You can follow me on Twitter @maytegarcia or on Facebook I think it's just Mayte Garcia. You can find me there. [laughter]
Charli: Well this was good. Inspiring and very much engaging. I really enjoyed this chat and I definitely look forward to the premiere.
Mayte: Yeah me too! [laughter]
Charli: Right! Because y'all haven't seen anything yet, right?
Mayte: Right, and a lot of people are going to be shocked, because they meet me and they're like, "Wow, she was married to Prince…" "I bet she's this mysterious woman…" But I'm an animal lover and you'll see a complete opposite of what people think or say. So yeah, I think you guys will enjoy it.
Charli: And when you mentioned it, I didn't even think about it, but when you mentioned the whole thing about being married to famous people like legendary pop stars —- I looked at your show on a totally different perspective than what I initially had envisioned. I mean yes, of course I'm anxious to know all about your experiences and everything you went through to take on that role.
Mayte: Exactly, and the other women have children. They have to deal with their children being children of… you know? So it's crazy [laughter]. The drama within our lives. It will be a great show.
Charli: Thanks so much Mayte.
Mayte: Thank you!
Hollywood Exes premiers Wednesday, June 27 at 9/8PM on VH1.