I thought I grew up idolizing Dominique Dawes and Kerri Strug as being one of the greatest American gymnasts of all time…
And one of the greatest moments in olympic history…
…BUT this "little firecracker", as Nicki Minaj proudly puts it, is one of a kind. And the thing that I love the most, is that she is an amazingly spiritual, inspirational, & motivational 16 year old, even when she's not wearing a fancy leotard.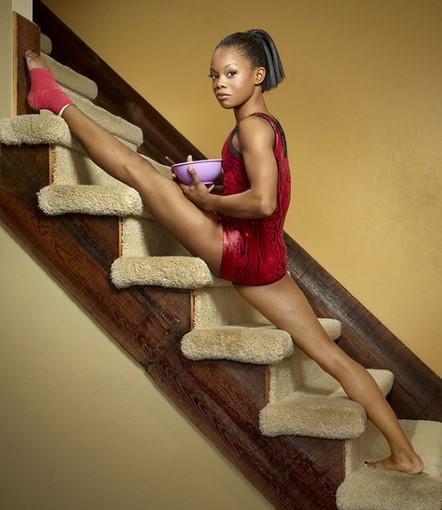 Gabrielle "Gabby" Douglas has inspired so many girls across the world… & yes, me too! Not likely as being a gymnast, for my athleticism days are long gone, lol; but her smile and adorable-ness gives me butterflies every single time she steps foot on the competition floor. She has inspired me personally — to keep pushing and reach for what we may think is impossible OR reach for all of the possibles that we've laid aside or mentally retired.
Even though I'm currently living out my biggest of all dreams, I've always had this ONE dream for myself that I looked at as just being a playtime hobby (like one of those healthy obsessions you have to find "free time" in achieving??) Well thanks to Golden Gabby, I've picked that dream back up! And noooo – it has nothing to do with gymnastics, lol. Will share in due time :)
BUT THIS. Is why she's so effin' amazing… on and off the floor. NOTHING ELSE MATTERS.
One might say, "Most people didn't even know who Gabby was until the Olympics"…which may be true. I can't speak for others, but you better believe I'm a fan from here on out.
Rooting for you Gabby! Good luck during the balance beam final tomorrow! Thanks for making history.
enjoy.
Interview with Dominique Dawes
Well I wassss getting ready to hit "publish" until I remembered how much I also idolized 2000 Olympic Bronze Medalist Tasha Schwikert as well! I remember watching her closely during the 2000 Olympics held in Sydney. That summer, she won an olympic bronze medal as an alternate for the USA team. After her Olympic debut, Tasha continued with her training. The 2001 National Championships came and she was named the best gymnast in America, after winning the National Championship. At the 2001 World Championship, she helped the team win a bronze medal and qualified for 2 event finals. She also placed 5th in the All Around. Tasha later went on to compete for UCLA on a full scholarship. She won the 2005 and 2008 NCAA All-Around Titles. Just last month, Tasha was inducted into the USAG Hall of Fame! AND to me, the most sassy of all! Watch.