Born in a tiny town of Orangeburg, SC, Angell Conwell began her journey at a very young age. After winning countless pageants locally, she signed with Wilhelmina's Kid Division in New York at the age of 10. She later begged for her parent's permission to audition for a role in August Wilson's highly acclaimed, "Fences". After landing the role, she realized that she wanted to pursue acting – later moving to Los Angeles and guest appearing on countless projects. At 17, John Singleton cast Angell in her first silver screen role as Kim in "Baby Boy", while sharing the screen with Tyrese, Taraji P. Henson, and Omar Gooding. She currently can be seen on CBS's top daytime soap opera, "The Young and the Restless" as lawyer, Leslie Michaelson and Bounce TV's "Family Time" as wife and mother, Lisa Stallworth. Yup! Angell dropped in to chat… and this sassy gal kept it real!
C: Hi Angell how are you?
A: Hi Charli, I'm well and yourself?
C: I'm great! I'm a celebrity interviewer for Media Blvd Magazine, and I always like to ask questions about your background first, just so that fans can get to know you a little more; other than just being on the screen…
A: Awesommme…
C: [laughter] So what motivated or inspired you to become an actress at such a young age? I read in your bio that you started at age 11.
A: Well, once I started to get my hands wet, after going to different conventions, I realized that I enjoyed it for myself. I really loved getting into another character or becoming another character by giving that character some "life". So it's kind of interesting to me so see words written on paper, but as an actor, it's your job to really bring them to "life". I thought that was really exciting. But in the midst of that, ever since childhood, I've always wanted to help. So I worked it out in my head to where I thought, "well I can do this because I love this and because I love THIS, it will show; and hopefully I can bring some smiles to people's faces." That's why my favorite genre is normally comedy. Whether it's a film, romantic comedy, or even a sitcom. I love those types of projects, because I like to see people smiling. I like that instant gratification of someone saying a line and instantly seeing someone else smiling and cracking up, because they found something funny. It's really the best feeling in the world for me — to make someone laugh.
C: Very nice… I read in your biography that you started off as a child model and I've looked at some of your current pictures that give you this awesome model look. Do you plan on going back to modeling or balancing it? Or is it strictly acting for you?
A: Well it's funny because I was a child model, but being a model really for me came from just having a lot of confidence. I don't think I necessarily had the "look" of a child model, but I didn't care because I just wanted to get into something. I wanted to do something fun and I just wanted to have a good time. [laughter] So I was like, "I'll be a model" [laughter] It's actually kind of amazing how far I went with it. I was with Wilhelmina in New York. I didn't really have the size, the right height, I didn't have the "right" anything, honestly; and I was working constantly as a child, so that's pretty amazing. I think that entertainment in general – a lot of times they all intertwine. And a lot of times they co-exist. So when I'm acting, to publicize my project, I may end up doing a photo shoot.
C: Exactly.
A: It might not be as serious as advertising campaigns or nothing like that, but it's still modeling. But I would definitely love to get into some advertisements and endorsements for products that I actually use and love. So hopefully that will start to happen in the future. I'm actually making plans and working out strategies for that now.
C: Awesome! And like I said, I'm sure you will do well with that, you definitely have the look! So talk about your experiences on "The Young and the Restless", "Soul Plane", "Baby Boy" and your many guest appearances.
A: Yep, every project that I've done has pretty much been very different. From "Baby Boy" even to "Soul Plane"; even though they may have a similar genre, they were still very different. And then now, with "The Young and the Restless", which is a soap opera – a completely different tone. And then there is "Family Time", which is a sitcom. All extremely different. So it's a great feeling to be able to do different roles and juggle them. It really forces you to be your best and to focus. You have to know what you're doing and what you need to deliver. Pretty much one thing that I can say about all of the projects is that they were absolutely wonderful experiences. But that's what I like about any movie or show that you work on. You always learn something new – whether it's from the director or from another character on the project; or just by being on the set watching people who are really great at what they do and have a passion for what they do. I always tend to meet somebody or a few good people that I learn something from. I think that's just like "life" – whatever you do, you try to learn something or take something good from it to be better on the next project.
C: Yes, exactly.. I've always thought that was amazing. Watching actors tackle different types of roles opposed to that "one" role everyone knows that they can play or what we are expecting. Very amazing. Because you have to study every single thing about that character – and like you said, "give it life"…
A: Thank you, I appreciate that. And a lot of people don't notice it. "Oh you were in 'That's So Raven'! You were Raven's cousin!" So like I'm playing Raven's snotty cousin from France and then I'm running over to another set going to play the gum smacking, fast talking girl in "The Wash". [laughter] Once I did an episode of NYPD Blue. It was a year honestly when I was bouncing around playing completely different characters. [laughter] I mean I was playing a battered wife who witnessed a homicide and I think that it's really important to challenge yourself because it's not always easy. It would definitely be easy to stay and do what you know you're good at. But then, there's not really a lot of fun in that.
C: Now you're promoting your new show, "Family Time" that airs on Bounce TV. What's the storyline? What can we look forward to each week?
A: Honestly, I can say, it is what it sounds like pretty much. Family Time. Kind of like in the old days, the days before all of the reality shows kicked in and took over. When you would run home to see your favorite family on TV. Whichever family that was, or even your favorite sitcom. But we're a family that used to live in the hood and then we came upon some cash, so now we're doing a little bit better. We're living in a nice neighborhood. Our kids are having to adjust to the new neighborhood. Omar Gooding plays my husband. And of course we deal with family and siblings who I run my mouth to [laughter]. So we have communication issues. We have issues centered around our exes and being insecure. It's a lot of fun elements to the show! We have neighbors, our bourgeois neighbors. So we try to adjust to that. So yeah, it's a lot of regular situations that are written to be funny. So people are really loving it. And what they did was air the first 6 episodes and now we're waiting for the pickup. And hopefully we'll pretty much be back around the Fall.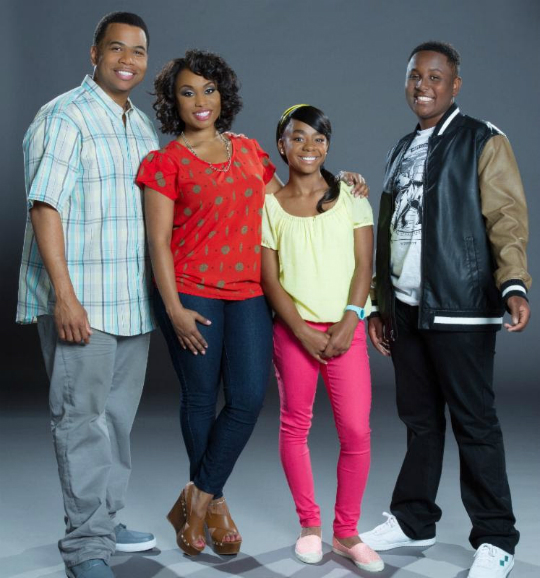 C: Okay cool, well I'm actually excited about it. As soon as I can find the channel [laughter] Because I interviewed Jazz Raycole a few weeks back, and she plays on "The Soul Man" with Ced the Entertainer and Niecy Nash and she was telling me "Ahh you're going to love it because it's a family show, we don't have that anymore!" You know it's kind of like going back into time when we did have those good family shows. So I'm actually excited to get into, whenever I can. [laughter]
A: Oh yeah it's that whole new wave of comedy. And I miss it. I must say I miss when TV used to be that way. It's like when you were laughing WITH the people and not at people. And now you look at TV and you laughing but the stuff is so ignorant, I feel bad laughing. [laughter] But it's funny and crazy all at the same time. "Family Time" is good-hearted, clean fun.
C: What do you think has been your biggest challenge thus far in the industry?
A: I think, you know, challenges come at a transition point and transition for me was when I first realized that I didn't want to do it anymore for myself. I do like acting, but I didn't want to do it for myself anymore. I really wanted to make sure what I did, or whatever I involved myself in, would affect someone else in a good way. So once I realized that, it cut out a whole lot of jobs that I normally would have auditioned for. Because the content of the projects coming through, weren't really much. There was no message. It was just nothing to it. But it's difficult [laughter]. Because sometimes you just want to work. So now I want to make sure that I'm apart of good productions. So I think that's kind of been my challenge. The transitioning. Transitioning basically from a girl to a woman. Because that's kind of what I've done. When I was doing "Baby Boy" I was 17. So transitioning, yeah [laughter] to becoming a woman, yeah [laughter]. From a girl to a woman. But definitely rewarding.
C: That's real. How can current and future fans connect with you on social networking sites?
A: My twitter is @AngellConwell and then my Facebook is www.facebook.com/AllAngell
C: Thanks so much! Is there anything else you'd like to share?
A: Nooo [laughter] I enjoyed it! Just have people look forward to more episodes of "The Young and the Restless" and also there are a lot of people asking about the Bounce TV page. "When is "Family Time" coming back..?"  There is not a lot that I can say, but Bounce TV's social pages would have more answers for them.
C: Cool! Well thank you again Angell! Take care.
A: Thank you mama!