On twitter, her 160 word bio might say: Just a mom of two beautiful blondes. Dabble in the world of competitive dance…from a mother's perspective, of course. Cast of @lifetimetv @dancemoms. But after getting a chance to talk with her about life outside of Lifetime TV's "Dance Moms", Christi Lukasiak does live a normal life – or she tries really hard to, explaining to me. Raising and nurturing her dancing daughter and reality TV star, Chloe, while maintaining balance and family time, she strives to provide her with that "normal" life — on and off camera. Inspiring and motivational, Christi talks to me about her experience, future plans for Chloe, and the nitty gritty drama on the show.
Charli: Hi Christi! Oh my gosh, how are you?
Christi! Hi! I'm great! But the weather here is SO bad! If I drop you, I'll try to get you back!
Charli: Okay no problem! Christi I wanted to ask you some questions of course about the reality show, "Dance Moms", your daughter Chloe, and just learn more about what started the show. 
Christi: Sounds good!
Charli: What exactly inspired dance for you and your daughter? How did it come about?
Christi: Well I tried her in her first dance class at Abby's when she was two years old. Abby's only 10 minutes away from my house and, and I don't know – I thought all girls wanted to be in dance [laughter]. It just seemed like a normal thing for me to do. I don't know [laughter]. I just thought all little girls wanted to be in ballet class.
Charli: Right. I think my mom thought that as well for me and sister while growing up. My sister stuck with it more than I did though. [laughter] So how did you get involved in "Dance Moms"?
Christi: Well, there was a casting put out – you know a casting company in LA that was looking for dance moms across the country; and I think that their concept was that they were going to have a few dance moms across the country that all came together at nationals and competed. And so, I answered the casting call and sent a photograph of myself and my daughter and I sent some flip videos in. You know I was sitting on my front porch and I was talking about how crazy my dance studio was — you know the moms and said that our little kids were really talented. So the producer kept calling me back and asked me could I send in anymore videos. And I said "sure!" I have a friend named Kelly, so I sent in videos of Kelly; and they said can you send in your daughter; I sent in videos of Chloe auditioning. Then he called me back a few days later and said could you ask your dance teacher to do something on film – can we see her? And I sent in a video of Abby approaching Chloe. Like I was part of "Dance Moms" from the very beginning.
Charli: So they loved the drama and all that came with it?
Christi: [laughter] Yeah! I think it was more so the teacher. The moms were okay, I mean those are our kids.
Charli: Right. [laughter] So talk about the girls in the group on the show. How much time do they spend in the studio? Outside of their dance world, what do they enjoy? Even school, how do they maintain a balanced life at their age?
Christi: The girls have been together, honestly since they were two. These girls have been together and friends they're whole lives. They dance about 10 hours a week. When we're filming, obviously the schedule is a little more demanding. So we're filming scenes other than just the dance class. So they do spend more time in the studio than actual production. And honestly, when our kids are not dancing and when Chloe has free time, these are the girls that she wants to be with. I mean these kids are together all the time. They really are like sisters! Chloe has a 3-year-old sister, so she was 8 when I had the baby. Chloe was like the first person at the hospital with Kate. Kate is like in all of my family pictures with the baby! [laughter] That's how close all of these girls are really are. They go to school regular. They all attend like a regular public school – full time. If they're traveling on the weekends for competition, they might miss Friday and if that's the case then we have a tutor on the road trips. They're responsible for everything like all of the other kids.
Charli: Yeah cause I mean when you talk about serious competitors, that's their lifestyle. You'd think that they would be home schooled.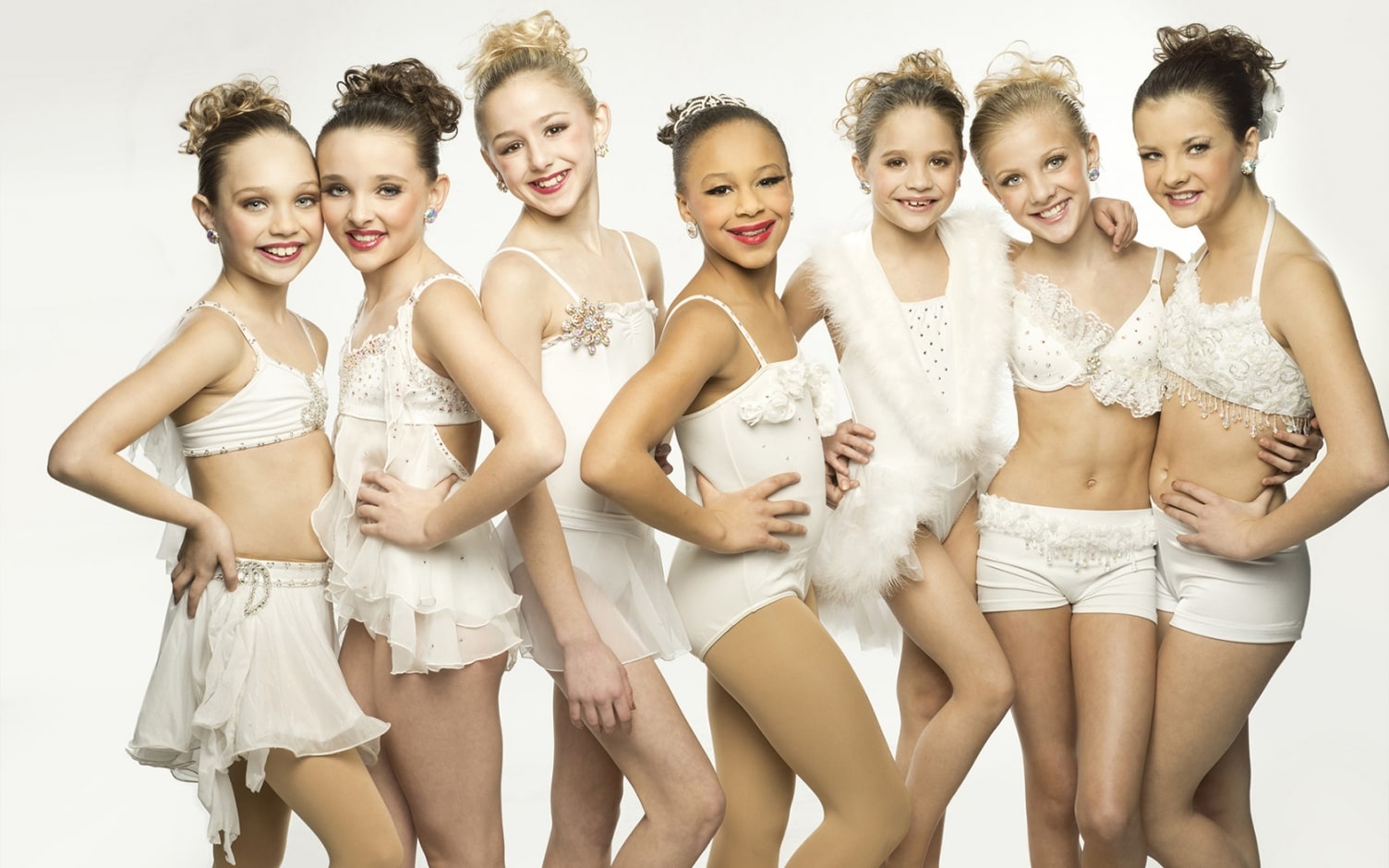 Christi: Yep, but no they really do live a normal life. I think all 5 of the moms have really made the effort in keeping their lives as normal as we can. Yeah.
Charli: What do you think has been your biggest challenge in dealing with the show and your daughter? How's it changed your everyday life?
Christi: Umm, the schedule! I would say the schedule is the hardest part. During season 1, not only were we filming "Dance Moms" and keeping up with school and homework and what not, I was still running a business. We owned a business for a year, and I had a 1-year-old. So it was really, really hard for me at the beginning. It is a tough schedule. We film Tuesday through Sunday – one week of filming equals one episode. So we film a lot of hours, there's a lot of time spent away from home. That's hard. I would say that's the toughest part.
Charli: I try to always put out a question on Twitter to my followers regarding the interview that I have coming up. And I ask them what do they want to know?
Christi: Oh gosh! [laughter]
Charli [laughter] So the relationship that you have with Abby… is it real on and off camera? Is it over-dramatized? Or real?
Christi: Oh yeah girl, [laughter] we don't like each other. Abby and I do not care for one another.
Charli: Because like, when you deal with reality TV – a long time ago, it used to be much more real than it is now. Like when "The Real World" was airing. Then over the last few years, they started the whole scripting thing, I guess to make more drama and draw in more viewers. So I think that was a big question for them.
Christi: Yeah! But to be honest, if we weren't on a television show, I think I would keep my opinions a little bit more to myself. However, one of the challenges when you're on TV is that America can't read your mind. Unless I don't tell you what I'm thinking, there's no story. The show is for me to say what's on my mind. I do try to keep it very, "what you see, is what you get." I do think that one of the biggest conceptions on the show is with the mom's relationships. You only really see arguing between the moms. But there's a lot of friendship between us as well. Because we have a really long history with one another.
Charli: So after all of "this" on TV and publicizing yourself to the world, what is it like to see yourself on TV? How do you and your family cope with your lives like when you're out in public? Are you approached? Like how has this experience changed you all's lifestyle?
Christi: Yeah! We are approached in public. I kind of forget sometimes [laughter] like if I see someone and they're like, "Hi Christi!" I'm like wait – do I know them from high school? Do I know them from college? [laughter] Then I'm like wait – oh they know me from "Dance Moms". [laughter] I don't know, it's weird because you're constantly being scrutinized at this point. And it's difficult in reality I think because people think that what they see is 100% of all you are. When really there's a whole lot more to you than what someone perceived on a 30 minute show that airs once a week. The other thing is, I think that people always feel like they know you so well, and that you know them. People will just come up to you and start talking regularly and I'm like I've never seen you before in my life [laughter].
Charli: [laughter] They watch you and feel like they can relate to you and your story. So that will definitely make someone feel like they knew you. And have been knowing you for a very long time.
Christi: Right, they feel that we really are friends! It's kind of fun, but on the other hand, it kind of catches you off guard sometimes.
Charli: So the future for the girls. What are the plans for Chloe? The girls as well, but specifically for Chloe.
Christi: Well if you ask Chloe, I can give you her answer verbatim. She'll tell you that she wants to be on broadway, she really wants to be an actress. And when she retires from that, she's going to be a pediatrician and a mom. She has a lot on her plate [laughter]. She's only 11 years old but she has a lot of goals. I hope that she reaches them, you know!
Charli: And I don't know if I read this somewhere, maybe I'm not clear on it. But do the girls audition for other dance schools outside of Abby's?
Christi: Oh no, we don't have the time. And when you're at Abby's, you're under contract and aren't allowed to dance for any other schools.
Charli: Oh wow!
Christi: Yeah, you dance at her studio.
Charli: So how can fans and other dance moms, connect with you on social networking sites?
Christi: Yep, you can follow me on Twitter. I'm @dancemomschristi. I'm on Facebook is a fan page I think it's Christi Lukasiak. And let's see, I have an instagram – everything is pretty much @dancemomschristi. I really like to tweet. Tweeting is fun; funny actually. [laughter] Like people are crazy on twitter.
Charli: And do you actually interact with your followers?
Christi: Oh yeah! I try to when I have a chance. I think at this point, I honestly think I do. I'm up to like 20,000 followers so they're very involved fans. I know I don't always get to answer questions, but I try to.
Charli: Yeah they always want to know that, when I post interviews. They're like, "how can I talk to them?" "Will they respond to me?"
Christi: I do actually have a website. It's not the best. We're revamping it. But it's christilukasiak.com
Charli: Well thank you so much Christi for dropping in! Is there anything else you want to add?
Christi: No thank you! I'd just like to say thank you so much to all the fans for their love and support. It's not really for me, it's for Chloe. It's an amazing experience. It's such an amazing feeling as her mom. I feel lucky that I get to be like the mom of this little girl. I am really lucky to have her.
Charli: Yes you should be! Thanks Christi!
Christi: Thank you!