The IAmQueen team are no strangers to PSLoveCharli Blog Mag — and they're back with something NEW, FRESH that's specifically targeted to our melanin CURLFRIENDS! Have you recently completed your transition (or) your return back to your natural roots? Have you been natural for quite sometime such as myself? Are you interested in learning more about maintaining healthy hair? Not sure how to cleanse, detangle, comb and style your child's hair? Then let me introduce to you The I Am Queen's "NATURAL YOU" Class!
The Natural You class is an interactive class designed to help you learn your hair texture, what and what not to use, and learn to embrace your coils and curls to make it manageable for you and your child.
IAmQueen is ALL about young girls + women empowerment. Everything about our brand inspires ALL females to embrace the characteristics and traits of known QUEENS combined with their own personalities to become the best version of themselves. Our goal is to start with the little QUEENS… helping them to understand how to LOVE everything about themselves even their naturally kinky curly big hair!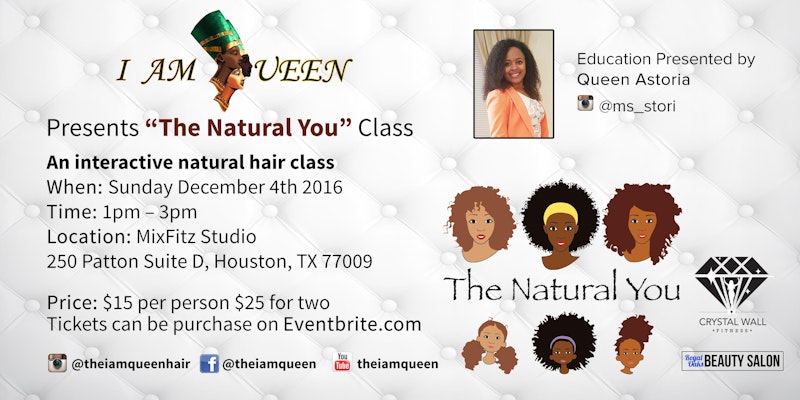 Does this sound like something for YOU?? Visit the link below to purchase tickets if you live in the Houston, TX area! And even BETTER news, our sister friends are preparing to take their class on the road! If you'd like #IAmQUEEN to visit your city, please contact them directly:
info@theiamqueen.com

.

**To connect with The IAmQueen partners, catch them in cyberspace or shop their products:

Shop | www.the-i-am-queen.myshopify.com

Instagram | @theiamqueenhair

Facebook | /theiam.queen

Youtube | TheIAmQueen